We've got some big news to share at Tiger Printing Group! We were recently honored by the Graphic Arts Association for excellence in minimizing hazardous risks with the 2017 Environmental Health and Safety Excellence Award.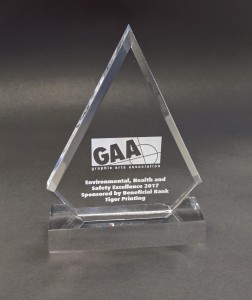 We are overjoyed to receive recognition for our work towards creating a safe and responsible workplace. We aim to provide the leading printing services in King of Prussia, PA.
We received the award for our leading environmental, health and safety program. This successful program is in place to ensure that our workers are fully protected from hazards of bringing quality print products to our customers.  Moreover, Tiger Printing Group only uses printing techniques that have a minimal impact on the environment ensuring our area for future generations
Our dedication to safety and our environment includes the utilization of CTP (Computer to Plate) technology, which aids in decreasing chemical usage and waste generation. We only use biodegradable chemicals and treat those chemicals before we dispose of them. In addition to our CTP technology, we also use the IMPACT system, which has PREPAC blanket rolls, which are pre-soaked in specific quantities of a low-VOC cleaning agent.
Maintaining the highest levels of health and safety is at the top of Tiger Printing Group's priorities, and we take special care to ensure that our disposal of waste material has the lowest environmental impact possible.
Receiving the 2017 Environmental Health and Safety Excellence Award has reaffirmed our commitment to the program. It is a public recognition for how hard our team works together to promote a safe and responsible workplace.
Our professional team members' attention to detail and focus on customer service means that your job will be done the right way, every time. We offer a variety of services, and you can rest assured knowing that your printing is being handled by a company that is recognized for excellence in environmental service and safety.
If you're looking for the experts in digital printing in King of Prussia, PA, you have to contact Tiger Printng today. You can reach us by calling 215-799-0500 or filling out a contact form online.