With the launch of our brand new website (we hope you like it!) we're also launching our new blog. We seek to make this a great new way for us to keep our customer base up-to-date on our latest news, offers and events, as well as to make our communication with our clientele even better. We definitely welcome any comments, ideas or questions you might have, so please contribute!
Without further ado, let's move on to the actual news sections of this month's post, especially since we consider it a pretty juicy piece of news. We can now officially announce that we have purchased the HP Latex 370 Printer, which represents state-of-the-art technology in commercial printing. And if you're wondering why, we have some facts to throw your way…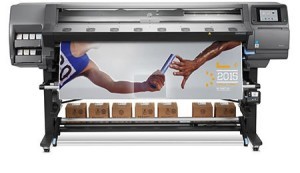 HP Latex Ink Is Brilliant
HP does extremely extensive testing on the light-fade resistance of their inks (the latex ink was tested under three different light conditions). Based on this, they estimate that their latex ink can withstand light-fade outdoors for up to three years without lamination and up to 5 years with lamination, while for indoors, in a window, the numbers are up to 5 years without lamination and up to 200 years with lamination. Think of it like this: Napoleon could've printed something using HP latex ink, put it on display indoors on a store window, and it would still look good today.
The third generation HP Latex inks also score either medium or high on resistance to damage caused by scratches, abrasion, water, window cleaners, ethanol and isopropyl alcohol. As water-based inks, they are odorless, which means they can be used in indoor spaces where solvent cannot be used (for example, healthcare facilities).
HP Latex 370 Printer Is Brilliant, Too
There are so many great, innovative features to this printer that you literally have to see the print results to believe it. It's capable of printing up to 64 inch margins with an image quality that is consistently sharp, with high-efficiency curing, six colors and 1200 dpi. In addition to superior image quality that has a high resistance to light, scratches and other damage, the HP Latex 370 Printer is also an environmentally friendly option. The inks are UL ECOLOGO and UL GREENGUARD GOLD certified, the prints meet AgBB criteria and the printer uses 3-liter ink cartridges that mean less waste.
The HP Latex 370 Printer is also an incredibly fast machine that can print unattended and produces completely dry prints ready to be finished and delivered, meaning it'll help us provide our customers high-quality prints even faster than before.
If you have any questions, please don't hesitate to let us know!