The saying, "You never have a second chance to make a first impression," rings truest when a company is trying to expand its brand and market itself to consumers. Marketing is a task with which most businesses struggle because consumers' needs, wants, and perspectives are always changing while their attention wanders. Unfortunately, this is the nature of the consumer, which means that businesses striving to make a successful "first touch" with their target consumers must grab the consumers' attention faster and take hold of their attention longer than the competitors vying for their business. 
Fortunately, with Tiger Printing Group, businesses can take advantage of some of the most versatile and effective large-format printing services around Philadelphia to design and install promotional signage that is sure to attract attention for almost any event or exhibition. 
What is Large-Format Printing?
Although large-format printing is not a new concept, the improvement of digital printing technology over the years has made this form of marketing product much more accessible and less expensive than in the past. Large-format printing is more than printing big pictures with a big printer. It is a versatile printing method, and it is used to produce banners, signboards, window graphics, storefront signs, and wall graphics with clean and bold images and persuasive or informational messages. These graphics impact how consumers learn about company products and services and how they decide to make a purchase. 
Benefits of Large-Format Printing
Although there are many different forms of printing, each with its advantages in the marketing world, large-format printing can be the most effective kind when produced with the best equipment and used correctly. Here are some benefits of large-format printing: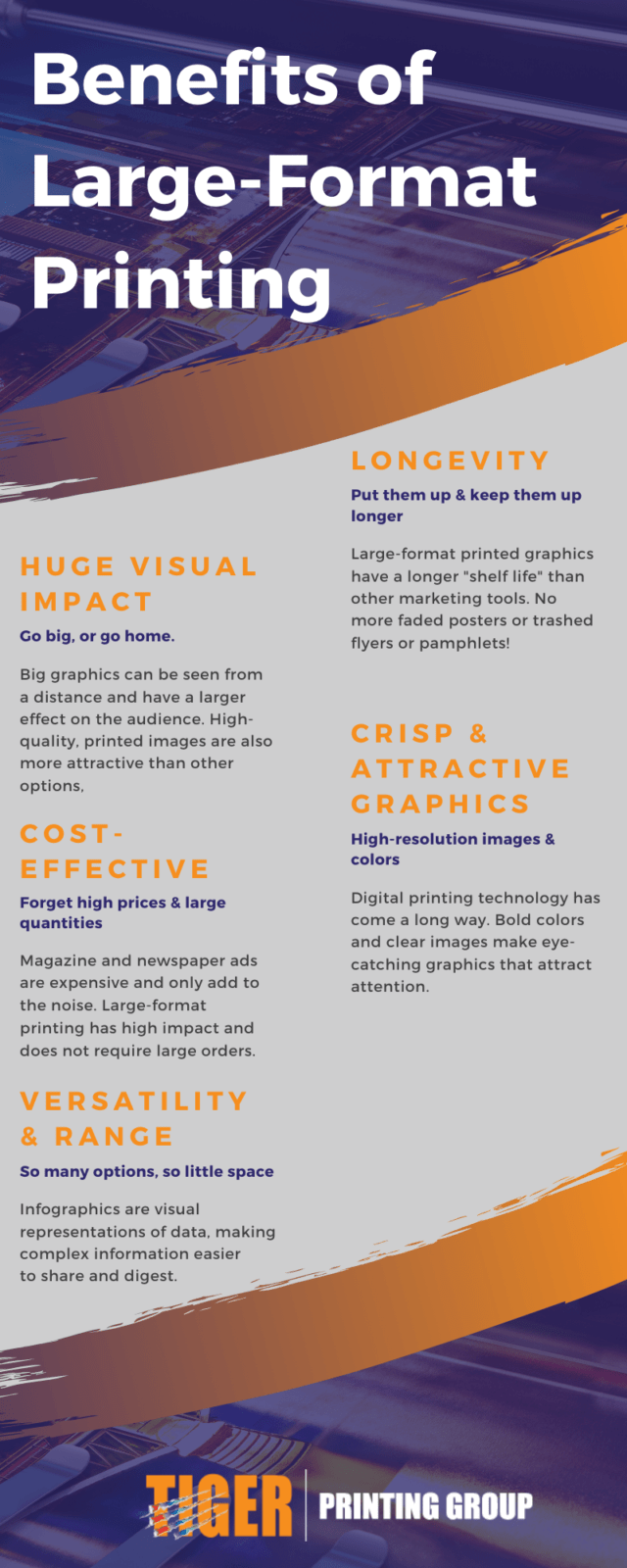 When companies want to attract consumer attention on a large scale, going big with the marketing product installations could be the most straightforward and most efficient route to success. Great large-format advertisements and graphics help businesses "break through the clutter" created by the competition. They can also convey a clear message or feeling to the consumer and provide the motivation they might need to purchase a product or employ a service.  For more information about high-quality, large-format commercial printing services in the Philadelphia area, contact us at Tiger Printing Group today!